Teria Wang
(王 手李亞 Wang Teria)
is one of the supporting characters of
Boarding School Juliet
series and a member of
Black Doggy House
.
Appearance
Teria has golden eyes and long black shoulder length hair.She is wearing a black jacket over her white shirt along with long white socks and pink shoes.
Personality
She is a quiet girl, not like her sister who is more louder and abrasive.
She has feelings for Romio and can't bring herself to admit them, even though her sister is fully aware if it.
Plot
Romio & The Prefects
~ Main article: Episode 8 / Chapter 13 ~
Teria and her twin sister Kochou overheard a conversation from some students about the festival tonight. They went to see Airu ask if he want to come and hang with them. He refuses saying they are prefects. Their job is to guide and protect the students. They should just patrol to prevent any trouble.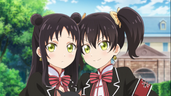 One day they were saving a cat from a tree. Kochou jump down and land on Inuzuka's arms. Teria then jump as well but land on his body. They explain that they are not elementary students but high scholars who skip grades. They are even second years. Hasuki showed up asking what Inuzuka is up too. He said that these brats are messing around with him. Hasuki take a good look at them and realized they are prefects. She then apologies to them for Inuzuka's sake. Inuzuka ask why would she do that and Hasuki explain they are actually prefects. Kochou ask if he is scared now but Inuzuka said he isn't. These prefects are nothing but annoying to him and should just go home. Kochou was pist but explain that age doesn't matter. If they are gifted with talent, then they should use it to protect others. She then change the topic asking what was the secret conversation he was having under the bench he was having earlier. Inuzuka said that he was talking with the ants asking if they would come with him to the festival later. The three of them then pity him saying he is lonely.
Later they went to his room without his permission and wait for him. When Inuzuka return, his eyes were stunned seeing them here. He ask why are they here and they said that they just want to hang out. They then ask Inuzuka where he gets this Rosary they found in his room. Why a Touwa would be having one in the first place. Inuzuka rush to them to get it back but he was pushing Teria to his bed and make her uncomfortable. Kochou was getting suspicious seeing him panic like that. There must be something about this rosary. Inuzuka ran outside and hammered his door with nails to prevent them getting out. However, he didn't realized that Kochou and Teria were helping him to seal his door. When he realized he pint a fire extinguisher at them. He then ran away from the dorm. They loss him. Though the students are going to the festival right now. Kochou decided to go there as well. Teria was happy to hear that but it was just to do Prefect duty which make her sad again. They are at the festival patrolling around and looking for Inuzuka. Teria observe everyone who are having fun. She was jealous but there was nothing she can do about it. They then found Inuzuka who seems to be having the time of his life. He was surprise they were still following him. They said its work. They have the rights to pusnish students who are having too much fun and messing around. He then ran away. They lost him again even after searching the entire festival. Teria then believe he is hiding in the woods. They heard a sound but it was just come cows. They keep looking for him but still no luck. They then decided to give up. They see that everyone was having fun. Teria wanted to ask if they could but Kochou said they can't.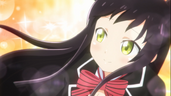 They heard trouble from a distance and went to check it out. There was one Black Dog and one White Cat student fighting with one another. If this keep sup then the fireworks could be cancelled. Kochou and Teria then stop the fight before it could get worse. The crowd was impress saying they are prefects. Inuzuka is still nowhere to be seen. They decided to held back but a rubber bullet hit Kochou head. It was Inuzuka! He wanted a match with them. If they lose them he will destroy some stalls. They said they don't have time for games but Inuuka said it's a battle. They then accept the challenge. They fight a game after another and Kochou and Teria was having fun. They ask what is the next match they be having but Inuzuka said that's enough for now. But they can call him if they want to have some fun again. They just want to have friends to hang out with the festival. He heard it from their classmates. They are still kids and should not spoil themselves. They then left heading back.
Romeo and Teria
TBA
Romeo and Kochou 1 and 2
TBA
Romeo, Teria and the School Festival 1 and 2
TBA
Romio, Teria, And The Final Exam
TBA
Romio, Teria and a Certain Conclusion
TBA
Trivia
Her first name, Teria, is based on the word Terrier when spelled or spoken in Japanese.