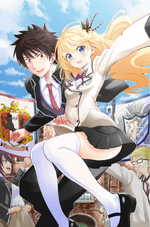 Boarding School Juliet (寄宿学校のジュリエット, Kishuku Gakkō no Jurietto?), also known as Juliet of Boarding School, is a Japanese Shōnen manga series written and illustrated by Yōsuke Kaneda. It began serialization in Kodansha's Bessatsu Shōnen Magazine in 2015, and it moved to Weekly Shōnen Magazine in 2017. Eleven Tankōbon volumes of the manga have been released so far. The manga is published digitally in English by Kodansha USA under the Kodansha Comics imprint from April 10, 2018. A light novel adaptation, written by Tadahito Mochizuki and illustrated by Kaneda, was published by Kodansha in a single volume on February 9, 2017. An anime television series adaptation by Liden Films aired from October 6 to December 22, 2018, in the Animeism programming block.
Story
Boarding School Juliet takes place at Dahlia Academy Boarding School where students come from two rivaling countries known as the "Nation of Touwa" and "Principality of West". The story follows Romio Inuzuka, the 1st Year Leader of the "Black Dog". Romio has an unrequited love for Juliet Persia, the 1st Year Leader of the "White Cat". Initially hesitant, Romio decides to confess his love and resolves to change the world if it meant staying by Juliet's side. Juliet, impressed by Romio's determination, accepts his love. However, now both Romio and Juliet must work hard to keep their relationship a secret from other dorm mates while trying to avoid trouble.
Characters
For full list of characters, see Characters
Romio Inuzuka, the leader of 1st Year High School division of the "Black Dogs". He has been in love with Juliet since their childhood and has always secretly protected her during the group's war.
Juliet Persia, the leader of the 1st Year High School division of the "White Cats". She is the only daughter of the Persia household, a high ranking noble family from the West.
Volumes
Chapters
Reception
External Links
References
Community content is available under
CC-BY-SA
unless otherwise noted.